英文全名
Recombinant Human soluble Fas Receptor/TNFRSF6 (rHusFasR/TNFRSF6)
英文别名
TNFRSF6, CD95, Apo I, Fas Antigen
蛋白结构

氨基酸序列
RLSSKSVNAQ VTDINSKGLE LRKTVTTVET QNLEGLHHDG QFCHKPCPPG ERKARDCTVN GDEPDCVPCQ EGKEYTDKAH FSSKCRRCRL CDEGHGLEVE INCTRTQNTK CRCKPNFFCN STVCEHCDPC TKCEHGIIKE CTLTSNTKCK EEGSRSN
Accession
Gene ID
产品英文概述
Fas and Fas Ligand (FasL) belong to the TNF superfamily and are type I and type II transmembrane proteins, respectively. Binding of FasL to Fas triggers apoptosis in Fas-bearing cells. The mechanism of apoptosis involves recruitment of pro-caspase 8 through an adaptor molecule called FADD followed by processing of the pro-enzyme to active forms. These active caspases then cleave various cellular substrates leading to the eventual cell death. sFasR is capable of inhibiting FasL-induced apoptosis by acting as a decoy receptor that serves as a sink for FasL.
来源
Escherichia coli.
分子量
Approximately 17.6 kDa, a single non-glycosylated polypeptide chain containing 157 amino acids.
生物活性
Fully biologically active when compared to standard. The ED50 as determined by its ability to inhibit the cytotoxicity of Jurkat cells is between 10-15 ug/ml in the presence of 2 ng/ml of rHuFas Ligand.
外观
Sterile filtered white lyophilized (freeze-dried) powder.
配方
Lyophilized from a 0.2 um filtered concentrated solution in PBS, pH 7.4.
内毒素
Less than 1 EU/ug of rHusFasR/TNFRSF6 as determined by LAL method.
溶解说明
We recommend that this vial be briefly centrifuged prior to opening to bring the contents to the bottom. Reconstitute in sterile distilled water or aqueous buffer containing 0.1 % BSA to a concentration of 0.1-1.0 mg/mL. Stock solutions should be apportioned into working aliquots and stored at ≤ -20 °C. Further dilutions should be made in appropriate buffered solutions.
储存条件
Use a manual defrost freezer and avoid repeated freeze-thaw cycles.- 12 months from date of receipt, -20 to -70 °C as supplied.- 1 month, 2 to 8 °C under sterile conditions after reconstitution.- 3 months, -20 to -70 °C under sterile conditions after reconstitution.
参考资料
纯度
> 95 % by SDS-PAGE and HPLC analyses.
SDS-PAGE电泳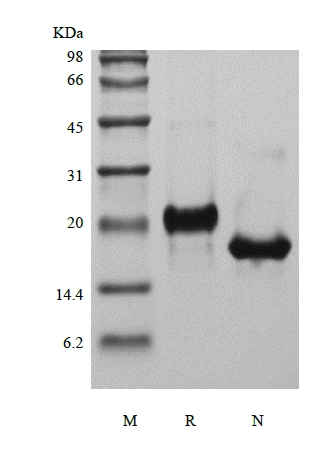 包装规格
5ug/100ug/500ug
安全数据表下载 (SDS)
技术参数表下载 (TDS)
品牌链接
Recombinant Human soluble Fas Receptor/TNFRSF6是ChemWhat品牌授权产品并通过沃尔森销售,下面是ChemWhat上的该产品链接 Recombinant Human soluble Fas Receptor/TNFRSF6 (rHusFasR/TNFRSF6)
https://www.watson-int.cn/wp-content/uploads/2021/12/sds-page-103-17R-1.jpg
471
336
great_watson-int
https://www.watson-int.cn/wp-content/uploads/2019/10/new-logo-300x300.jpg
great_watson-int
2021-12-23 17:03:10
2021-12-23 17:03:10
Recombinant Human soluble Fas Receptor/TNFRSF6 (rHusFasR/TNFRSF6)